We recently had the opportunity to rework an entire home in Fairway, KS. It was a small home, but a big project … and what a difference new siding and windows can make!
Renovation to the Rescue:
With this particular project, there were several critical issues we needed to address long before choosing colors and styles to transform the house. First and foremost on our list of to-do's was addressing the wood rot: it was everywhere! This house had been sided with cedar shake shingles decades ago, and the extreme Kansas City weather had definitely taken a toll. Over the years, wood rot had begun to consume the exterior as moisture had extensively permeated the weathered shingles. In addition, the original wood windows were in really rough shape … beyond the homeowner's concerns about the curb appeal (or lack thereof) caused by dated aluminum storm windows, the wood casings, sills and sashes were a mess. Years of expansion and contraction along with a settling foundation had left the windows virtually inoperable, and worst of all, they were incredibly drafty. So much so, in fact, the upstairs bedroom needed a second air-conditioning unit just to keep up with the constant loss of cool air from inside the home. Windows that are difficult to operate, inefficient and ugly just won't do!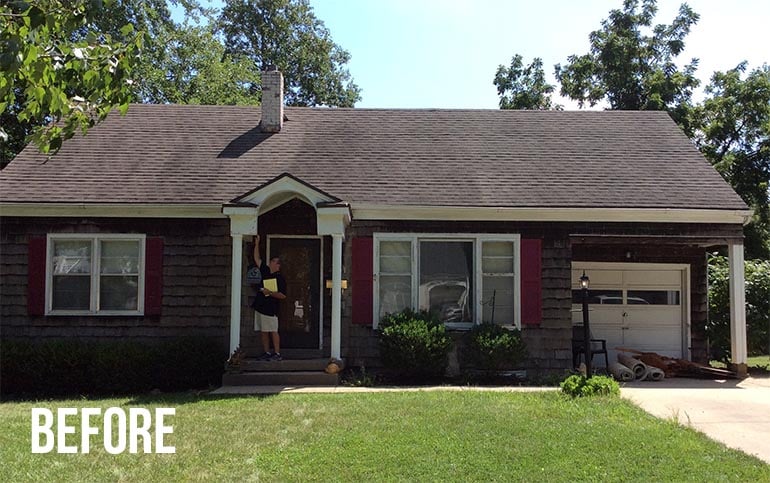 After so many years of struggling with these and other efficiency issues, Paul B. contacted us to help. He expressed his concerns about how to improve the aesthetics and curb appeal without losing the charm of his Fairway home, and also requested a solution that would provide a virtually maintenance-free exterior. He wanted a bold new look and color on his house along with energy-efficient windows to help keep heating and cooling costs down.
Window and Siding Solutions:
For the exterior, we knew James Hardie Fiber Cement siding was the perfect choice as it offers timeless good looks, drastic reduction in maintenance costs, and a variety of factory-finished colors to choose from. And for the windows, we recommended Aeris VT 800 windows by ProVia as they feature ProVia's exclusive ComfortTech™ Warm Edge Glazing System. The VT800 windows provide superior resistance to heat transfer through glass to keep the interior comfortable year round, and they are available in a wide variety of styles, configurations and colors to choose from.
Ultimately, Paul chose James Hardie's 8 ¼" Horizontal Lap siding in Iron Gray. We used Arctic white trim around the new ProVia windows to help them stand out, and the finished product was stunning! Please take a look at the Before and After photos pictured below and let us know what you think!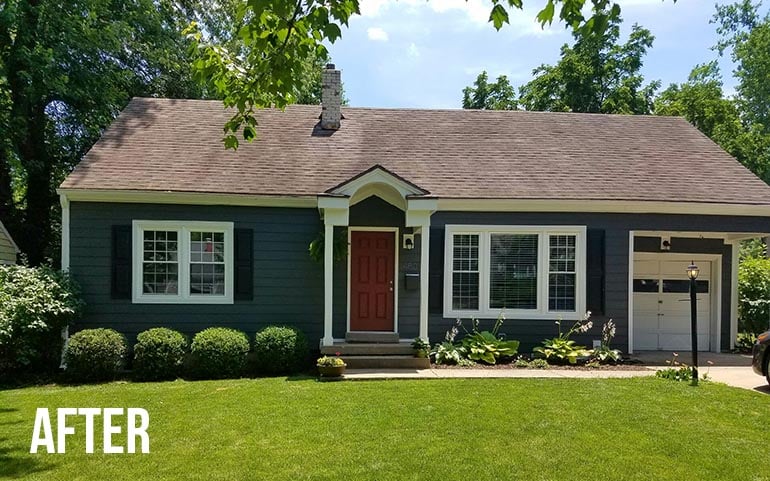 "Windura was an absolute pleasure to work with from start to finish. Jeff and his team were so accommodating with the planning process and took all the stress out of the equation. You wouldn't believe the compliments we've gotten on the house. Not just on the siding and windows, but the workers were just as great. I recommend Windura without hesitation."

– Paul B., Fairway, KS