The Problem: An Old, Leaking Patio Door
A homeowner in Leawood, KS was referred to us by a previous Windura customer, and called us for a Free Estimate to inspect his hinged patio door that was showing signs of wood rot and water leaks. This was the original wood French Patio Door that was installed when the house was built around 25 years ago, and featured a nicely stained interior finish and protruded wood grids. Despite these nice features, however, it was obvious that the door was due for replacement.
The Solution: A Worry-Free, Fiberglass Patio Door
Unlike a sliding patio door, hinged patio doors (also known as French doors) can be built in several different configurations to best fit the flow of the home and needs of the homeowner. This particular door was built with only one active panel which helped reduce cost a bit, however it could also be built with both panels operable to allow for a larger opening.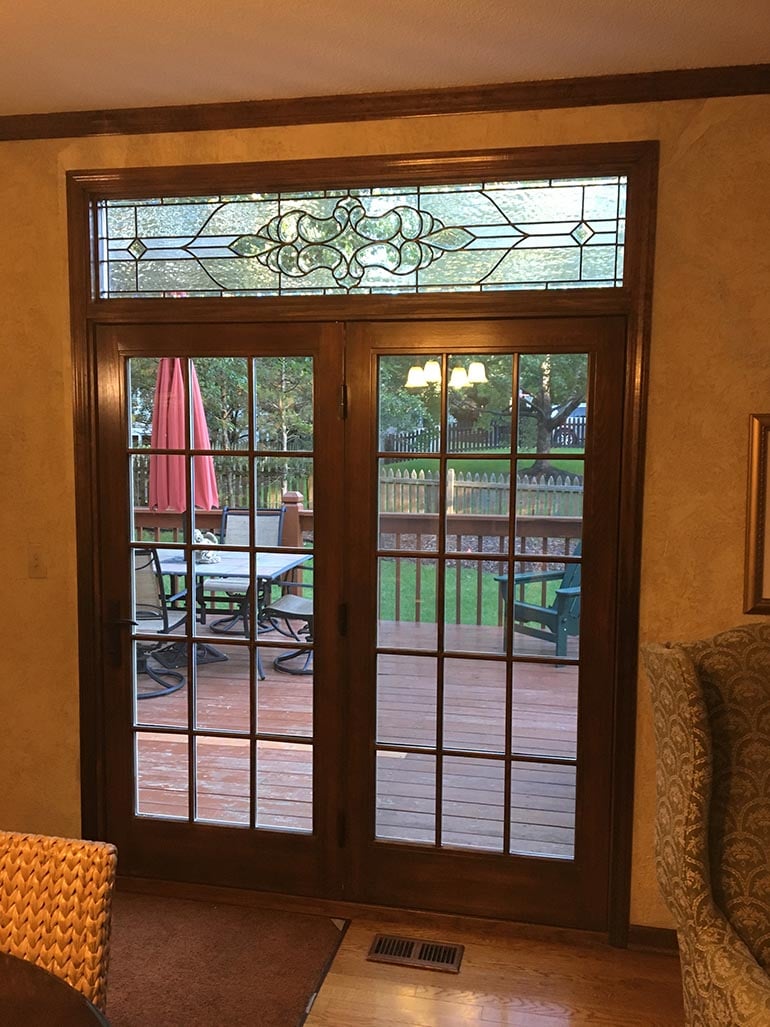 Windura offers a full line of premium replacement windows and patio doors that feature a full fiberglass exterior for exceptional frame strength and durability and a wood interior for a warm stained or painted look inside. Prior to installation, Windura custom stained this door to perfectly match the homeowner's existing woodwork and trim. The protruded SDL grids in the door were also stained to match and came out looking great.
Our employee installation crew (never subcontractors) installed the replacement patio door with brand new PVC exterior trim for a lifetime of no-rot performance and fully resealed the opening to prevent future water leaks and wood rot. We also custom-built a framed picture window unit above the door to retrofit this homeowner's beautiful stained glass unit. The end result is a gorgeous new patio door that looks like it was built with the house.
Please contact us today for a free quote!