The Problem: Outdated Wood Windows and Rotted Wood Trim
A homeowner in Kansas City, MO recently contacted us for a free estimate for replacement windows. His existing wood double-hung windows showed signs of rotten wood and were difficult to operate. In addition to these obvious issues, the homeowner also wanted energy-efficient windows to help keep utility bills from climbing in the hot summer and cold winter months.
The Solution: Affordable Vinyl Replacement Windows & Complete New Exterior Trim
Windura installed brand new ProVia Aspect Brand vinyl replacement windows, and they turned out great. In addition to outstanding entry doors and patio doors, ProVia also offers us a full line of replacement windows with numerous color, configuration, glass, and grid options. These new windows are extremely energy efficient, and ProVia's Lifetime Product Warranty will serve this homeowner well for decades to come.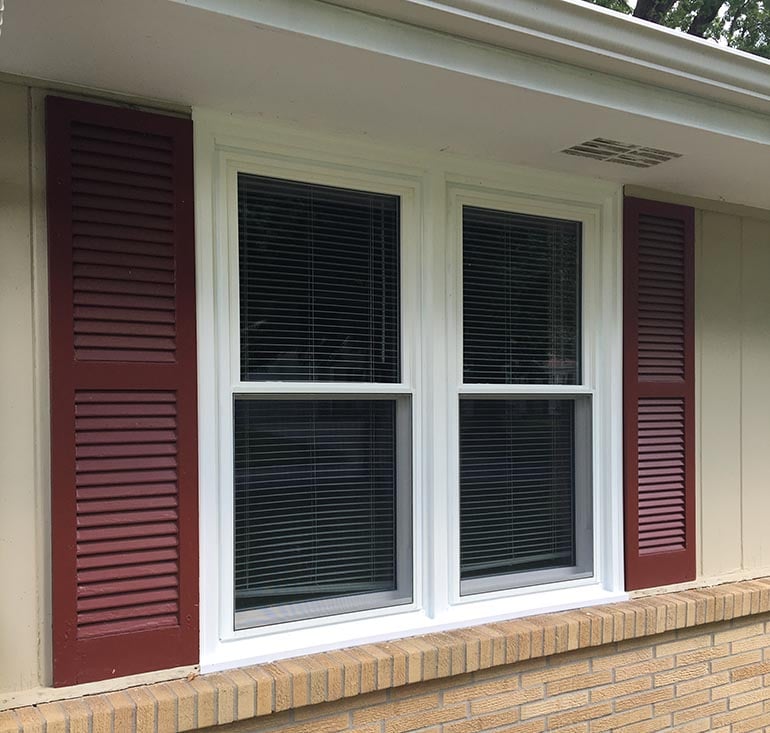 The installation method we use is equally important to selecting a great window. Without proper installation, even the best windows will not perform as they should. A vast majority of our competitors simply choose to cover up old rotted wood trim with aluminum trim coil and call it a day. This method can yield results that look okay for a while but generally aren't a good long-term solution.
With full exterior trim replacement, however, we can provide a lifetime of no-rot performance. For this homeowner, we installed new PVC trim components to match the profile of his existing trim (brickmould and sill nose in this case). There are other benefits to full trim replacement in addition to removing the rotted wood. When the original trim is taken off the house, we have the ability to fully insulate around the window openings – impossible to do otherwise. Other drawbacks of aluminum trim wrap include faster 'yellowing' of caulking around the aluminum, as well as possible damage from hail and other impacts. Our replacement exterior trim choices all hold paint extremely well, and are far more durable than the thin aluminum trim coil many of our competitors use.
Please give us a call or send us a note today for a free estimate! We'd love to earn your business and help protect and beautify your home.