Have you ever noticed paint peeling on your window sill? Or "squishy" exterior wood trim around your windows? There's a good chance that water is to blame … not just from the rain itself, but from a leak somewhere inside the window casing. We were recently contacted by a homeowner in Lenexa, Kansas with this very problem.
The Problem: Leaking Aluminum Clad Windows
This particular home had an obvious issue: rotted windows that had suffered years of water damage. When the homeowner contacted us about his leaking aluminum clad windows, we knew exactly what to do … it's a problem we see far too often! Despite the home being less than twenty years old, the windows were beginning to cause major issues and needed to be replaced.
Like many newer homes in Johnson County, KS with clad wood windows, the signs of water damage from rain leaking through the windows are not always immediately apparent. From the outside, the original windows appeared to be in fairly decent shape due to the 'no-rot' aluminum cladding. Upon further inspection, however, the wood beneath cladding had completely rotted away.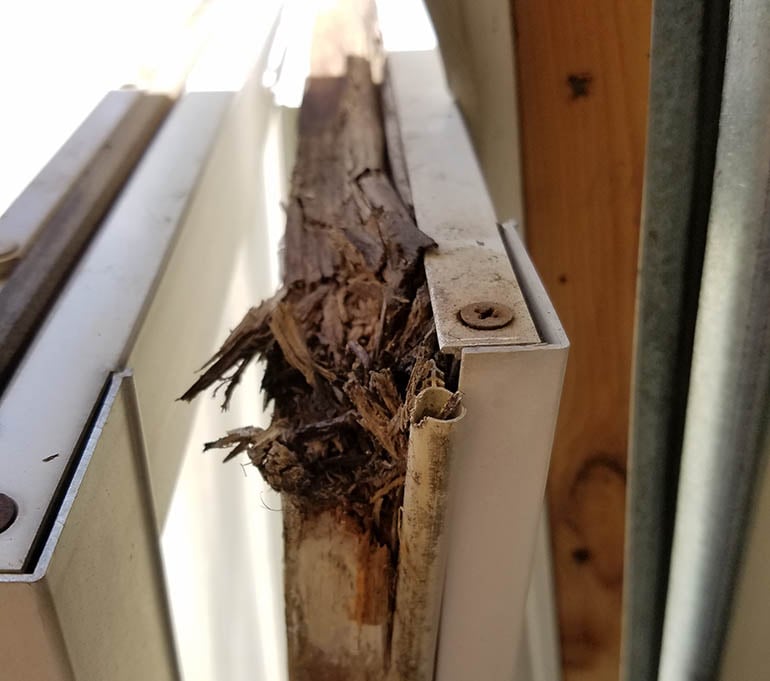 The image to the left shows this homeowner's casement window sash after it was removed from the home. As you can see, over the course of a few short years (it doesn't take long for water to cause this sort of damage), the wood casement sash began to act as a sponge whenever it rained. Water would collect in the sash and allow the rain to enter the original framing of the window opening and rot the knee-wall studs and subfloor below it.
The Solution: Trouble-Free New Windows
To fix these issues for good, Windura replaced these rotting casement windows with new fiberglass casement windows from Beechworth Windows. Unlike lots of window companies, our team of employees (not subcontractors) are highly trained in full-frame window installations back to the home's original rough-opening measurements. There are many applications for which "pocket" or "insert" installations make sense, however a leaking casement window is not one of them. After the complete removal of an original window, we are able to install a new replacement window to exactly match the original size as it was when the home was first constructed with no loss of glass space.
Along with the new-construction nail fin, foam insulation, flashing tape, and new exterior trim, these new windows will serve the homeowners well for decades to come. All of our seasoned installers follow strict AAMA (American Architectural Manufacturers Association) Installation Masters guidelines to ensure your home is properly protected from the elements. Please contact us today for a free no-hassle quote for your any of your home's window, siding, and door needs.