The Problem: Rotting Wood Casement Sashes
Last month we met with a Leawood, KS homeowner who has been a Windura customer for many years. We've completed several projects as their old, rotted wood casement windows continually need repair and replacement. As many Kansas City homeowners know, and especially those in Johnson County, these older wood windows can be a real pain. Issues like water leaks, air drafts, and fogged glass can affect even the most beautiful homes.
The particular triple casement window that brought us out this time around is located at the front and center of the home. With the homeowners looking to sell their home and relocate, this window just couldn't wait any longer … it was in dire need of an upgrade!
The Solution:
We replaced this rotting triple casement window with a gorgeous white vinyl unit from ProVia, manufactured right here in the United States. ProVia's 'Aspect' Brand Window is an exceptionally high-quality line with features like energy efficient glass, elegant hardware choices like satin nickel and oil rubbed bronze, and 'BetterVue' screen mesh for enhanced visibility through the screens.
Due to the fact that we did not replace every window on this home all at once, special attention was given to matching up the grids in the new windows with the grids in the old ones. ProVia offers several different grid profiles, patterns, and colors to make this possible. The new window features sculpted internal grids between the glass for easy washability and a crisp modern look.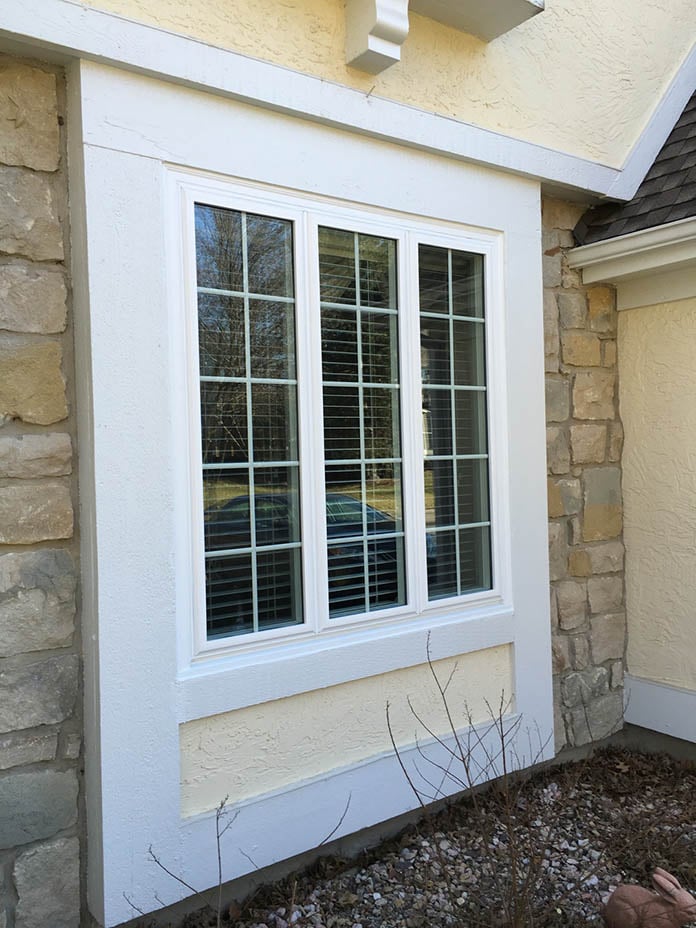 For absolute best performance, our installers (employees, not cheap sub-contractors) installed the new unit with a nailfin. By utilizing a brand new nailfin, as well as window installation tape, foam insulation, and Solar Seal caulking, we are able to fully insulate and protect the rough-opening of the original window.
Once the window was installed in the opening, we completely replaced the exterior trim with full PVC brick moulding for a lifetime of no rot performance. Our homeowners were well pleased with the refreshed look, and the lucky buyers of this home will be treated to a beautiful view for years to come with peace of mind from ProVia's Lifetime Warranty.