The Problem: Dated Windows
We were recently contacted by a homeowner in Shawnee, KS about a residential window replacement project. Their home is typical of many older Johnson County homes, in that while well-built in some ways, had windows that were simply wearing out and causing problems for the owners.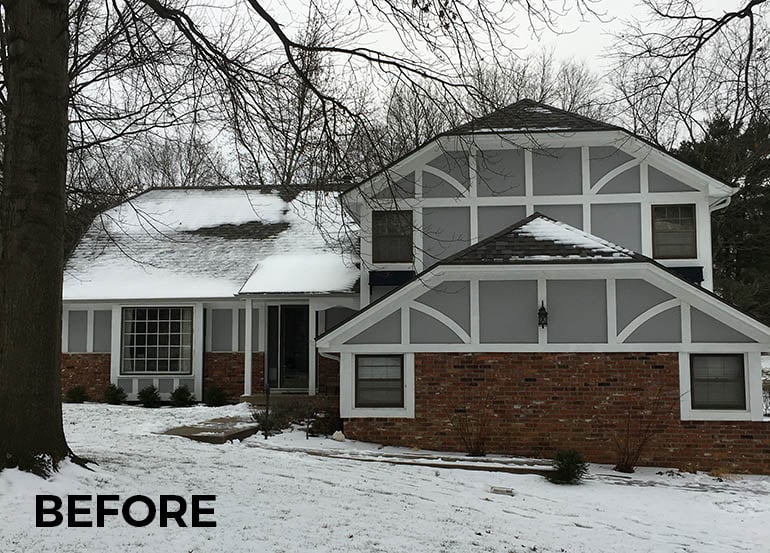 The windows in this home were 40+ year old wood windows of predominantly double hung design. In addition to normal wood-rot issues, the windows were particularly drafty and inefficient. The presence of older storm windows not only didn't help much, but created a dated appearance and made operability challenging.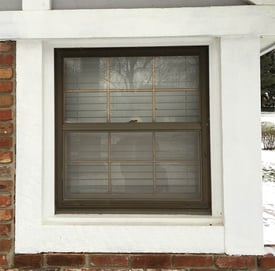 Besides needing tighter, more energy-efficient windows the owners wanted to address two other issues: Sound infiltration and improving the dated appearance. Specifically, they wanted the bedroom windows to be able to provide more sound protection than typical multi pane replacement windows offer, as neighborhood dogs have been an annoyance. To make the appearance more current, the owners wanted to eliminate the old divided lite grids to create a more open look, and select a crisp color choice to draw attention to certain windows, in particular a large picture window in the front of the home.

Windura Solutions:
Windura Operations Manager Kevin Kinkade notes: "We have plenty of experience helping homeowners who desire sound upgraded windows, as we understand glass technology as it relates to enhanced Sound Transmission Control (STC) ratings."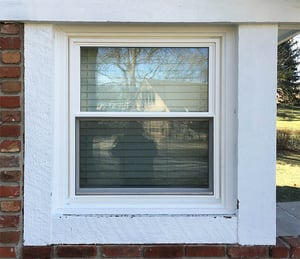 Windura recommended Provia's 'Aspect' brand vinyl windows for this project. ProVia offers Lifetime Warranty and a proven track record of positive results and problem free performance for Johnson County homeowners. The window designs chosen were double hung, picture windows, and two off-set sash windows called 'oriels', which are appropriate for double hung windows of a particular size. The white frame color chosen inside and outside offer a crisp, clean appearance.
In addition to the multi-layer Low-E energy coatings and argon gas in the double pane glass, Windura, along with the Provia Engineering team, specified a varying glass-thickness design comprising both triple-strength & double-strength glass panes to create a sound-upgrade package to address this particular need. All this was achieved while staying within the homeowner's budget. To top off the installation, Windura replaced all the exterior window trim with attractive, no-rot PVC brickmould, blindstops, and sillnose. The result was a successful project and another highly satisfied Shawnee, KS homeowner!