The Problem: Wood Rot
We were recently contacted by a previous customer who was interested in replacing some windows in his Olathe, KS home. Back in 2011, these homeowners hired us to replace several windows that had been damaged in a hail storm. They chose high quality fiberglass windows at the time, and now needed some replacements for their older wood windows that matched. This particular home is of particularly high value, and as result, both the owners and our installation team placed great importance on window performance, installation procedures and product quality … and of course, the aesthetics. It was important to all of us that the new windows looked just right.
As you can see from the photos below, replacing these original wood windows was extremely urgent due to the extent of the wood rot: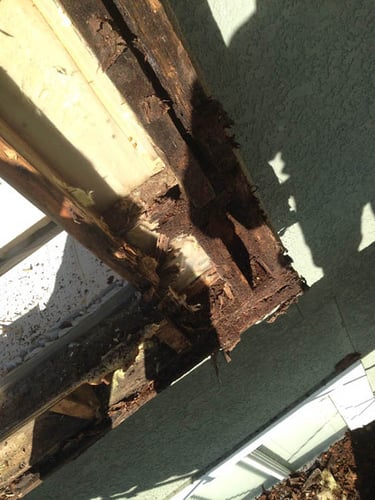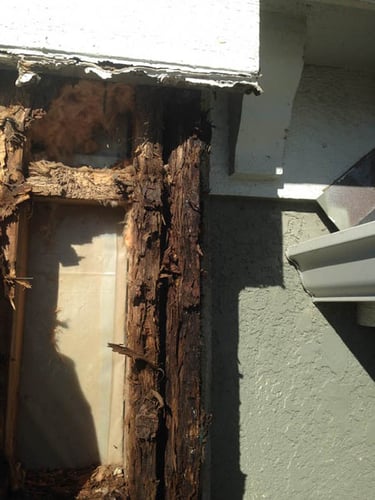 Jeff Kinkade, the estimator on this project, helped these homeowners evaluate the condition of the remaining windows, and offered a proposal focusing on those in worst condition. Four units were ordered, with the matching window model to those previously replaced being specified.
Windura Solutions
For the new replacements, the homeowner chose a white frame color without the traditional colonial grids, to create an open, clean appearance and replicate the original design of the home. Due to the condition of the old frames, full removal was appropriate, therefore the "Rough Opening," also known as a "New Construction" method was required.
The product we installed in this home was the "Ultra" brand fiberglass frame window manufactured by Milgard. Fiberglass frame windows yield exceptional strength and long-term integrity, and this model comes with a Lifetime Warranty that covers all parts and labor. The Rough Opening installation method we used allows the window to be built back to full dimension, and includes the replacement of the exterior trim with PVC brickmould and sillnose for no-rot performance. Another benefit of this installation method is that it reveals any hidden damage that might be present, and in this instance some fairly significant damage to the studs around the window was exposed. Windura is fully capable of making this repair, and was able to do so at the time of this installation. The correct procedures for full window replacement (Rough Opening method) are fairly involved and require specific training. We are experts in this method, whereas many companies only offer the simpler 'pocket', or 'insert' method.