ProVia® windows are beautiful, durable windows that offer improved energy efficiency for your home. We have always loved the brand because every window is custom made and the quality of construction just can't be beat. The ProVia company mission and vision really says it best:
"At ProVia, our top priority is serving and caring about others. We try to show that not only through the outstanding products, service and quality our customers have come to expect, but by caring for the smallest detail of our customers' needs. In fact, we believe that so passionately our mission statement is, "To serve, by caring for details in ways others won't." Because 'to serve' is an active statement, it represents our relentless pursuit of looking for ways to put our mission into action."
Of all the windows we've seen over the years, ProVia's Aeris windows have really stood out. Three models are available, and we would highly recommend them all. However, the two lines below have been the most popular among our customers.
Endure Windows (formerly VT800 Aeris)
When it comes to vinyl windows, there are many brands to choose from, but ProVia's Endure Series is simply one of the best. If you need a replacement window solution that offers top-notch quality and long-lasting performance, it's a great choice.
Featuring ProVia's exclusive ComfortTech™ Warm Edge Glazing System, the Endure windows provide superior resistance to heat transfer through glass, and will keep your home comfortable year round. They are available in a wide variety of window styles and configurations, and offer neutral color and casing options to match most Kansas City area homes.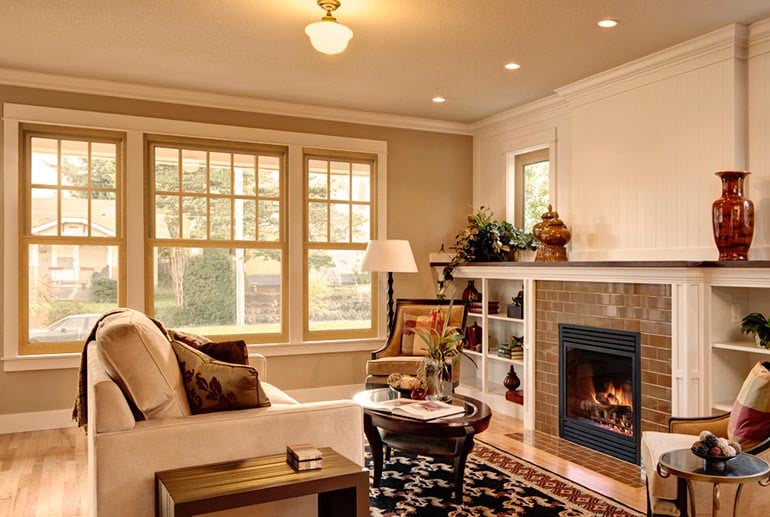 Aeris Windows (formerly WX1000 Aeris)
The Aeris series is a top-of-the-line ProVia product designed to exactly match your home's interior with pre-finished interior wood trim. These windows combine a maintenance-free vinyl exterior with a completely customizable real wood interior that can be stained or painted to your exact specifications. Best of all, the windows are pre-finished during the manufacturing process, and ready to install immediately upon delivery.
These windows come in all the standard window configurations whether you're looking for a basic picture windows or a custom architectural shape. The interior finishes are available in your choice of 16 different stains in oak wood, cherry wood, and maple, or if you prefer paint, 16 different colors. A variety of casing options and exterior vinyl colors are also available to choose from.
If you're interested, be sure to ask us about the tech specs and glass options – there are plenty of those too!
We are proud to carry the ProVia brand for our customers, and couldn't be more impressed with the quality of their windows and doors. For more information about the Aeris line, please contact us directly at 913-362-3872.